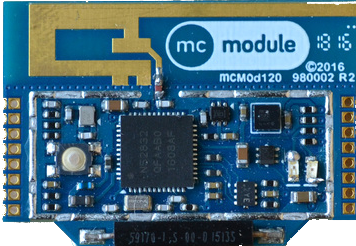 The mc-Module is a computer like device that is incredibly small, powerful and energy efficient. Running on a single coin cell battery, these devices can last up to five years! Attaching the mc-Modules on almost anything, you are able to measure and control many variables remotely.
IMPORTANT: Ensure you have the mc-Gateway and the mc-Dongle. All three products in tandem work to create the mcThings platform.
Requirements
Micro-USB cable.
Ethernet cable or router.
Setup
 Before continue with this guide ensure completed the mc-Gateway configuration to be able to send data to Ubidots.
On this video tutorial you'll find a mc-Studio introducion.
1.- Update the mc-Module with the last firmware version using the mc-OTA updater.
2.- Go to Tools>Devices.

Once the mc-Gateway is connected you'll be able to see the mc-Module.
3.- Connect the mc-Module. Check the Uid for verify the device that you want to connect. Select it and click on Connect Device.

4.- Once your mc-Module its connected the status will change. This step take approximately 60 seconds, so please be patient.

5.- Now it's time to program it! Just copy the right side code and then press Run.

Publish one value to Ubidots
Send one value to Ubidots
Define PinMode Pin0 As AnalogInput Alias Sensor

Class Ubidots_AnalogRead
    Shared Event Boot()
        Lplan.SetBeaconTime(175)
    End Event

    Const DeviceLabel As String = "Your_Device_label"
    Const topic As String = "/v1.6/devices/" + DeviceLabel

    Shared Event SensorRead() RaiseEvent Every 10 Seconds
        Dim value As Float 
        value = Sensor

        Dim payload As Json = New Json
        payload.Add("sensor", value)

        Lplan.Publish(topic, payload.ToListOfByte)
    End Event

End Class

Using the following code you'll be able to send one value to Ubidots.
Result
Ubidots & mcThings provides you an easy access into the Internet of things world, in just few minutes you created an IoT app. Now it's time to imagine and create amazing things!
Happy hacking :D