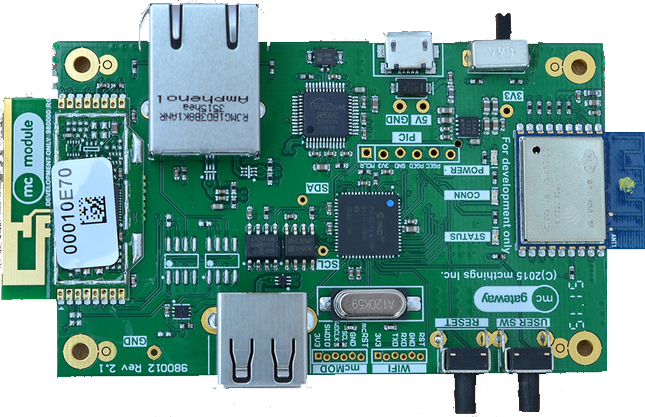 The mc-Gateway is placed within a certain radius of the mc-Modules. This device will allow you to speak to your thousands of mc-Modules, transferring the required information back and forth using our mc-Air Low Power Local Area Network, GPS, SIGFOX or WIFI.
IMPORTANT: If you are purchasing a mc-Module, ensure you have the mc-Gateway and the mc-Dongle. All three products in tandem work to create the mcThings platform.
Requirements
Micro-USB cable.
Ethernet cable or router.
Setup
 Go to the following link and check the specific step by step how to start with your mc-Gateway.
On this video tutorial you'll find a mc-Studio introducion.
1.- Power up your mc-Gateway.
2.- Connect your mc-Gateway to internet (using ethernet or Wi-Fi).
3.- Upgrade your mc-Gateway. The mc-Gateway has two processors, each of which can be independently updated. Check the step by step here, also you can find the BIN FILES on the download page. Remenber that for update your mc-Gateway you need to use the mc-Dongle, to know how to use it go following link.
Configure the mc-Gateway with Ubidots
 Before start the configuration, we recommend you read our MQTT API Reference to know how works.
Once your finished the setup you have to configure the mc-Gateway to connect it to the Ubidots' MQTT broker.
1.- Open the mc-Studio IDE.
2.- Go to Tools>Devices.

3.- Connect the mc-Gateway to the mc-Studio.

4.- Once your mc-Gateway is Connected select Gateway Config

5.- You'll find the following window.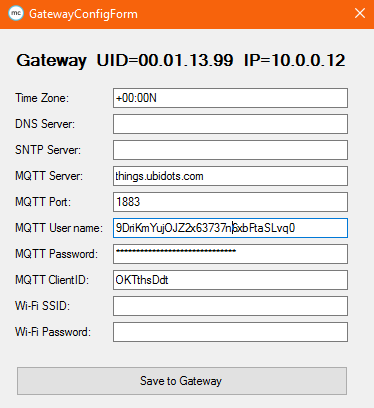 You have to assign the parameters needed for the MQTT communication.
MQTT Server: things.ubidots.com
MQTT Port: 1883
MQTT User Name: Your Ubidots TOKEN
MQTT Password: Your Ubidots TOKEN
MQTT Cliend ID: random ASCCI name (optional)
Result
Ubidots & mcThings provides you an easy access into the Internet of things world, in just few minutes your mc-Gateway is able to send data to Ubidots through a mc-Module. To start with your mc-Module just click here.
Happy hacking :D